Reasons why disposable plastic cutlery is displayed as "art work" | World Social Good Idea Magazine | IDEAS FOR GOOD
Movements to regulate disposable plastic use are occurring around the world one after another.The New York Council passed a bill in April 2021 that the hotel prohibits the provision of personal care products such as liquid soap in plastic mini bottles.In India, it has announced that all disposable plastic products will be banned by 2022.In the EU, on July 3, 2021, the stage of the production and use of disposable plastic supplies has begun.
London Design Viennale, which was held in June 2021, exhibited unique installations that reflect the movements of the world.In this exhibition, named "Spoon Archaeology", colorful plastic spoons and forks are displayed in a glass case like a butterfly specimen.
Image Via Staatliche Kunstsammlungen Dressden
The exhibitions were created by German designer Peter Eukhart and Kai Rinkke.This exhibition was initially part of the series planned at the Dresden State Museum of Art in accordance with the launch of the disposable plastic regulation in July, but by curator Thomas A. Gaisler, in 2021 London Design Biennale.I also participated.
The two creators were fascinated by the diverse and beautiful design of disposable plastic cutlery, and each of them was personally collected them.However, no matter how wonderful the design is, sometimes the "unwanted" results that no one predicted.Plastic disposable cutlery is now used around the world because of its convenience and design, but as a result it led to a large amount of waste.He has conveyed the lessons to the students through the collected cutlery.The purpose of this exhibition is the same.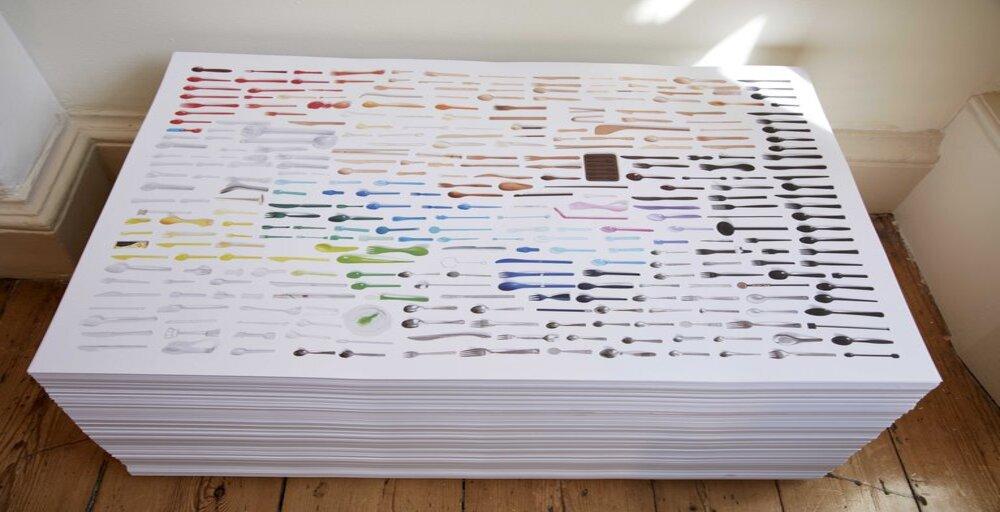 Image Via Staatliche Kunstsammlungen Dressden
At the exhibition, he also questions that disposable cutlery of different materials such as trees and bamboo as an alternative to disposable plastic cutlery is appearing.In order to make such natural materials, a large amount of forests must be cut down, and it can eventually trigger another environmental problem.
On the other hand, the creators propose a banana leaf through a documentary film in Southern India, which rarely use cutlery and tableware.The film depicts a variety of people in Southern India using bananas leaves and eating with hands, and their simplicity is praised.
It would be a little difficult for us to grow into a food culture that does not use them in a culture that uses cutlery on a daily basis.However, at least the concept of "disposable" may need to escape quickly.
Plastic disposable cutlery is a "past relic".For the first time, the future generations will see them in museums and know their existence for the first time.Such a future may be coming soon.
2021
Tagged with: 環境, イギリス, デザイン, エシカル消費, ロンドン, 美術館, 廃棄物削減, アート, 日用品, ドイツ, 欧州, EU, カトラリー, 使い捨てプラスチック, インスタレーション, ドレスデン州立美術館, ロンドンデザインビエンナーレ, 使い捨てプラスチック規制