Japanese cuisine chef Masahiro Kasahara unveils his private recipe as a father for the first time. What is the "home meal" that he makes for his two daughters, son and himself?
Mr. Kasahara has a family of four, including his eldest daughter who is working, her second daughter who has just come of age, and her eldest son who is in high school. During the stay home period, we will publish the unadorned and honest dishes that we actually made at home for our children and ourselves. Not limited to Japanese cuisine, international dishes such as an Italian menu for my son who doesn't like fish, and shrimp toast made at the request of my daughters who like Thai food, are appearing one after another. You can meet the charm of Mr. Kasahara's new cuisine, which is different from before.
Meuniere with a strong taste, made with reasonable cod. A plate of memories for my son, who is not good at fish, and became a favorite dish.
Two of my daughters, who are old enough to drink, request only Thai and Western dishes. Toast snacks, which are traditionally fried, can be easily made at home by baking them in a frying pan.
When it comes to the recipes of professional chefs, there are many times when you have to go out and buy seasonings to start cooking, but the Kasahara family's home-cooked meals are completed with the seasonings they have at home. The familiar Japanese seasoning is the base, so the taste is easy to decide. For example, the meat sauce is seasoned with soy sauce and mirin instead of red wine and ketchup. When eating Thai-style chicken, the sweet chili sauce-style mixture of vinegar, honey, soy sauce, and chili bean sauce is very popular, saying, "It's not too sweet and delicious!" It is said that such international dishes are favorites of children.
The Kasahara family uses seasonings that are easy to get anywhere. If possible, prepare two kinds of soy sauce, dark and light.
​
It is said that there are more opportunities for the whole family to eat together, and the children request various dishes from their father, who is a chef. Since there are fewer opportunities to eat out, it seems that the "outside taste" rather than the taste of home, such as the menu of family restaurants that the family likes and the dishes introduced in gourmet programs, has increased. In this book, Mr. Kasahara also introduces reproduction recipes of family restaurants, popular Chinese restaurants, and popular Korean dishes.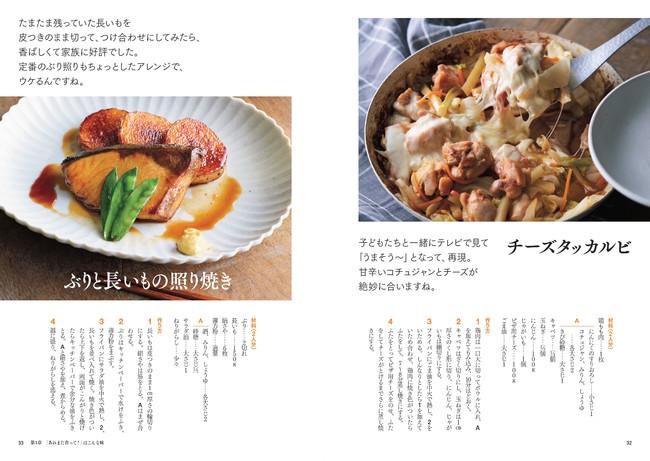 Reproduce the iron plate order menu of the family restaurant that I often go to with my family. As a snack for myself, the children feel like an appetizer. It's a delicious taste that both adults and children can't stop.
When everyone was watching an information program, the video of "Cheese Dakgalbi" looked delicious, so I immediately reproduced it! It seems to have been very popular with the family. Yellowtail teriyaki is a simple dish that children will love.
"Cooking food for my family for the first time in a long time and having more time to spend together at the dining table gave me a lot of new discoveries. The eldest daughter is a strong drinker, the second daughter likes raw oysters, and the second son is particular about peperoncino. .
As the saying goes, "Cooking at home is free and easy. Just like what you want to eat." Mr. Kasahara says that it's about having fun around the dining table. In this book, you can also get a glimpse of Mr. Kasahara's real face as a "father" who enjoys cooking purely in a place away from work and gains various realizations through communication with his children. In addition, a message to the father from the three children is also included. It is a book that can be enjoyed as a reading material, along with hints for enjoying life, such as how to use utensils and how to pick oneself. Chapter 1 The Kasahara family's "Make it again!" If you have 2 or 3 kinds of pots and a small pot, it's a feast. Terumono - Refrigerator Edition, Food Storage Edition, Vegetable Edition - Other
Masahiro Kasahara / Masahiro Kasahara
The owner of the Japanese restaurant "Senniryoron" in Ebisu, Tokyo. Born in Tokyo in 1972. After graduating from high school, he trained at Shogatsuya Kitcho for 9 years, and took over the family yakitori restaurant Torishou in Musashikoyama after his father's death. In 2004, he opened his own restaurant, "Senenryoron," and it became a hot topic as a popular restaurant where you can't get a reservation right away. As a directly managed store, the Nagoya store opened in 2013, and the Kanazawa store opened in 2019. Her cooking recipe books are also very popular, with a cumulative total of over 1.27 million copies. Privately, I have a family of four, my eldest daughter, my second daughter, and my eldest son. Even on busy days, she never misses making lunches for the children. Book title: Masahiro Kasahara's home meal Author: Masahiro Kasahara Price: 1595 yen (tax included) B5 size / 128 pages ISBN: 978-4-07-449059-2 https://www.amazon.co.jp/dp/ 4074490595/ [Shufunotomo Co., Ltd. Public Relations Office] C-Publishing Service Co., Ltd. Public Relations Department pr c-pub.co.jp (Please change ★ into @ and send it.)