Includes [Animal Snowball Cookies], which became a hot topic on Twitter as "cute!"! "Plump Cookies and Cute Baked Sweets", a popular sweets recipe book, is now on sale!
On sale September 24, 2021!
KADOKAWA Co., Ltd.

KADOKAWA Co., Ltd. (President: Tsuyoshi Natsuno, Headquarters: Chiyoda-ku, Tokyo, hereinafter referred to as KADOKAWA) announced today, September 24, 2021 (Friday), "Puffy cookies and cute. Baked sweets" will be released. The recipes in this book are unconventional! You can make cute cookies by rolling the dough like clay. Starting with adorable animal cookies, miniature-like donuts, bread and hamburger cookies, seasonal cookies such as Halloween and Christmas, sweets houses of your dreams, and easy-to-make baked goods such as pound cakes, cheesecakes, and chocolate brownies. There are lots of recipes for cute and delicious sweets, including sweets.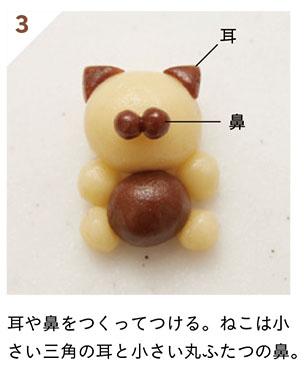 There are also columns such as cafe menus that can be easily made with commercially available ingredients when you want to take a break, such as animal cream soda, coffee jelly, pudding a la mode, and parfaits, and cute wrapping ideas for giving cookies and baked goods you made. fullness.

[Contents] Part 1 Snowball Cookies Plump Cookies Part 2 Squeezed Icebox Sand Cookies Squeezed Cookies, Icebox & Sand Cookies Part 3 Seasonal Cookies Seasonal Cookies Part 4 Baked Sweets Easy Baked Sweets You'll Want to Make 1,430 yen (1,300 yen + tax) -ISBN 978-4-04-605464-7 -Published by: KADOKAWA KADOKAWA Official Site Bibliographic details page https://www.kadokawa.co.jp/product/322106000849/[Author profile ] mocha mocha Confectionery hygienist. He studied confectionery in high school and worked as a baker at a bakery after graduation. Currently, she is working on releasing recipes for original cute sweets on YouTube. Adorable animal sweets have many fans. Twitter/https://twitter.com/mochamochammYouTube/https://www.youtube.com/channel/UCi6UOTD6SNNJzalRnO5bGgg* The following is special information limited to media personnel. Please refrain from disclosing information on personal SNS etc.
This press release contains information for members of the media.
If you register as a media user, you can view various special information such as contact information for company representatives and information on events and press conferences. *The content varies depending on the press release.
Press Release >
KADOKAWA CORPORATION >
Includes [Animal Snowball Cookie], which became a hot topic on Twitter! "Plump Cookies and Cute Baked Sweets", a popular sweets recipe book, is now on sale!
Type

Products and Services

Business Category

Magazines/Books/Publications

Keyword

Related URL

https://www.kadokawa.co.jp/