Sales are double the previous model by narrowing the conditions and searching Instagram -centered measures!Panasonic "Oven Toaster Bistro" Challenge
Proposals for products while fostering "longing worldview"
―― Today, I would like to talk to Tomioka, who is in charge of digital promotions of the whole product in Panasonic, Mr. Soga, who is in charge of promoting cooking products, and Mr. Hisakita of Facebook Japan, who is in charge of the company.First, please tell us about Panasonic's Instagram operation.
Tomioka: We have operated several Instagram accounts, including "Panasonic Official" for home appliances, "Panasonic Cooking", mainly kitchen appliances, and "Panasonic Beauty", mainly for beauty appliances, but the last year or two.I feel that the levels that can reach are wider.The advertising menu is also updated to follow the individual purposes.
 In addition, it is easy to find "context" that is important for communicating with customers, and that we can approach as if we were going to communicate in places where customers with various thoughts are more than a place to show advertisements.I feel that it is a unique feature.
-In the promotion of "Oven Toaster Bistro" released as a new toaster model in February, it is said that Panasonic Cooking's Instagram account (@panasonic_cooking) was used.Please explain the concept of this account and the main target layer.
Soga: Panasonic Cooking says that through a wide range of kitchen appliances such as refrigerators, ranges, rice cookers, and toasters, kitchen pockets and cool panties, they say they are happy and want to fill their hearts.The concept is raised.We send that feeling through product sites and Instagram.
 Instagram's main post introduces recipes using kitchen appliances and home appliances, aiming for a "suggestion of a kitchen space that you want to imitate a little longing and imitate", conscious of the unified world view and longing styling.I am.
 Recently, I have been focusing on IGTV and reels, and the actual model family shoots at home how to use kitchen appliances such as our refrigerator and range to cook at home.It is uploaded.This content is functioning as a thing that conveys how to use kitchen home appliances while showing the natural appearance of the home through the video, and it is difficult to show it in recipe posting that unifies the longing worldview.I think that you can introduce a delicious and happy real life using kitchen appliances.More than 80 % of followers are women, and people of all ages, from their 20s to their 50s, are viewed.
――How do Kokida see the use of Panasonic?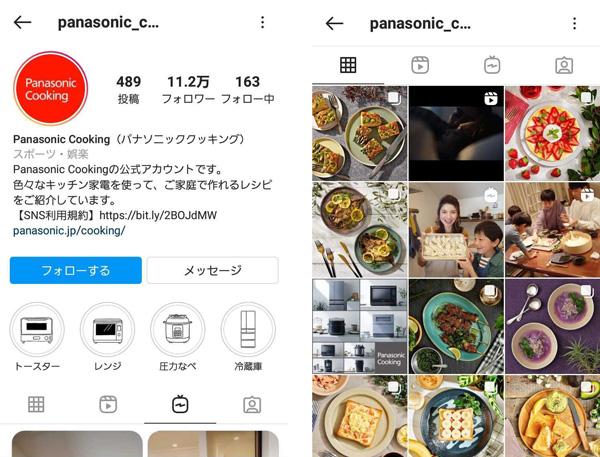 Hisakida: We believe that Instagram's role as a marketing platform is to "make and want to want and want."One of the values is the creation of accidental discovery.
 In order to provide an accidental encounter to users, it is important to create a lot of contacts using various functions of Instagram, but Panasonic Cooking uses a wide range of features, such as feed, story, and IGTV.In addition, brand contact opportunities are increasing using advertisements.
 Also, the construction of the engagement after the discovery is also a point.The brand's world view is transmitted from the content stocked mainly in profile and story highlights, and people who are commenting are returned to "like" and comments, and build relationships with the community.It is.
Use Instagram from the stage of searching for consumer insights
――So, please tell us your purpose and outline of the promotion of the "Oven Aaster Bistro" held this time.
Tomioka: We have been selling toasters so far, but in response to the establishment of the luxury toaster market, the Oven -Star Bistro has been launched.This time it was a launch as a new model, but at the stage before planning each funnel, Facebook helped me from a preliminary survey to explore consumer insights.
――Why did you work together from the beginning of the campaign?
Tomioka: One thing I wanted to grasp the image as a platform again, as to what kind of trends and trends on Instagram.In addition, we have been snuggling up to Japan's life, but in order to re -understand the changes in customers' lives in this corona, and work on a new feeling from the beginning of the campaign, toasters and our toasters and our life.Another reason was that I wanted to know how "Oven Toaster Bistro" is being told.Considering the number of Instagram users and user attributes, we thought that the insights that can be observed there can be considered as reflecting the world to some extent.
Hisakita: First of all, we analyzed the keywords of posted content on Instagram, which are likely to be related to "Oven Toaster Bistro".For example, "Toast" shows that post and engagement are increasing during the stay home period before the corona, or if it was "home and lunch", there was almost no post before the corona.It increased during the colona period, and it has been kept a certain volume since then, and it has become a new demand.
Tomioka: Rather than being able to catch at all, it was a perspective that I thought so far, but I didn't get any confirmation or missed it.I feel the value of supporting the data.
 We planned the campaign as the next phase, but here we have introduced a marketing framework (JOB flow) as an experimental approach.