CULTURE & LIFE For home appliance storage and partitioning. Summary of examples of stylish kitchen counters [Tell me! good room]
In a large living-dining room, a kitchen counter is necessary when the kitchen is installed on the wall. You can use it in a variety of ways, such as storing home appliances and tableware, or dividing the dining room from the living room.
The dining kitchen is partitioned by an apple box
In order to use the living room and dining kitchen extensively, Mr. HONOKA has a sliding door that separates the living room from the dining kitchen. The sofa is boldly placed across the threshold.
The kitchen counter was set up to hide things you don't want to see, such as trash cans and daily necessities, and to create partitions to create a tight space. The counter on the right side was DIY, and the apple box I found on Rakuten was piled up and placed next to it on the left side.
He said that the height was just right by stacking three. Ingredients, wine, and glasses in stylish bottles are visible. It is used in a well-balanced manner by storing trash cans in places that you do not want to show.
View details about this room
Adding MUJI "Stainless Unit Shelves" to the existing kitchen
Yuki, who lives in a room with a built-in muji+Kitchen system kitchen. MUJI's "Stainless Unit Shelf" was also installed to expand the width. By adding a shelf as an afterthought, it seems that a storage space that can accommodate two people living together has been created.
Since the unit shelf does not have the back of the shelf, we use rattan baskets, outdoor trunks, and stylish paper bags to create a stylish counter by combining storage cases of different materials.
View details about this room
Securing a cooking space with Nitori's stainless steel top plate
Maatona, who lives in an apartment complex. Between the living space is a Nitori stainless steel kitchen counter.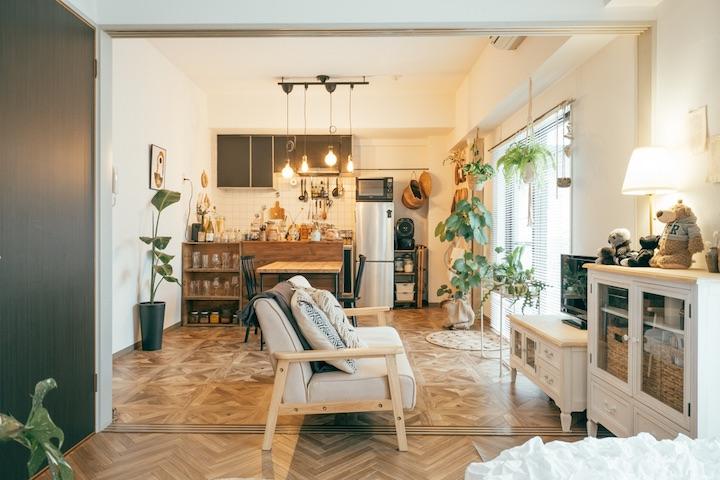 Since there is not much space for cooking in the kitchen, placing a table made it easier to work. Furthermore, the storage space has also increased. It is also a point that it is devised so that it can be put in and taken out from the kitchen side and the living room side.
View details about this room
DIY by matching the wood grain color
Mr. notosa made the kitchen counter to match the height of the kitchen. It seems to be very useful when the two of us are cooking or brewing coffee.
The color of the wood grain matches the kitchen and dining table, giving the impression that it is familiar. The length and width are perfect for DIY. When you want to hide things you don't want to show or to prevent dust, you can look stylish just by putting your favorite cloth on it.
View details about this room
text : ASAKO SAKURAI
*
Source: goodroom journal
Article provider: Renovation Designers Rental goodroom (Good Room)
We operate a fashionable rental site and app "goodroom", such as designers and renovations.
We will deliver hints on how to enjoy your own life even if you are renting, such as interiors, living alone, and living together.
Stylish rental site/app goodroom
https://www.goodrooms.jp/
goodroom journal
https://www.goodrooms.jp/journal/
goodroom journal Life example
https://www.goodrooms.jp/journal/?cat=101
*