Add new value ♪ 10 old tools reborn with remake-Laurier Press
RoomClip magLast Updated:Select
Secondhands are attractive for their rust, scratches, and colors that have been created over the years. Isn't there a lot of people who use antiques as interior accents? It's nice to enjoy the taste as it is, but why not remake it and add new value to it? This time, we will introduce examples of old tools that have been reborn through remakes.
Table of Contents
Furniture
Old furniture such as Japanese chests of drawers and chabudai are often incorporated into the interior of old folk houses and are popular for creating retro spaces. Furniture has a presence, so it is also attractive that you can change the atmosphere of the room with just one item. Users were reborn old furniture with flexible ideas.
■Paulownia tansu
Photo by choco-san
A Japanese tansu is a popular old piece of furniture that can be used not only for clothes, but also for storing dishes and other items. choco introduced me to a remake of a paulownia chest of drawers. He scraped away stains and dirt with a sander, added iron legs, and applied wax to finish. The Japanese-style chest of drawers, which you got at the surprising price of 750 yen, has become a stylish chest. I applaud the idea.
■Mizuya Tansu
Photo by nyagosan
nyagosan uses Mizuya Tansu as a kitchen counter. It seems that they laid an MDF boat on the chest and put a tile on it. By choosing white tiles, it does not feel oppressive even when placed in the center of the room, giving it a refreshing impression. It's great that you've transformed it into a refreshing kitchen counter with practicality.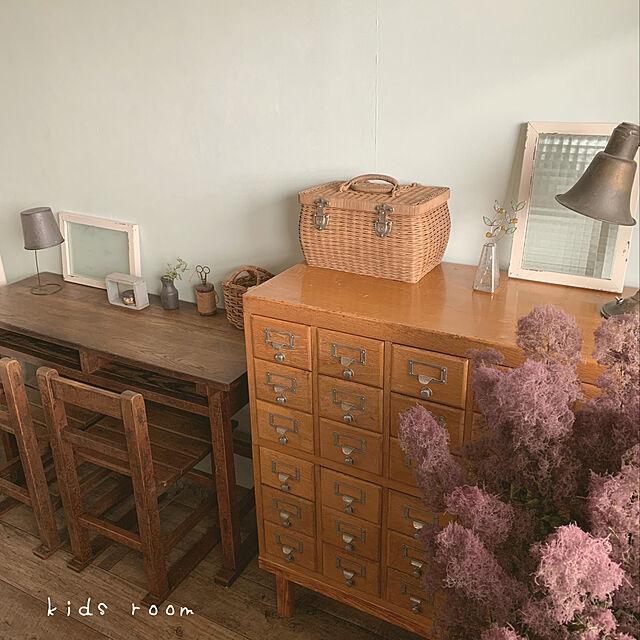 ■Library card shelf
Photo by charan
This shelf with many small drawers was originally a shelf for library cards. charan uses the legs on the bottom of the shelf. The legs give it a clean look and enhance the interior. The drawer is a cute accent, and it seems to be easy to use. I'm convinced that it's a favorite furniture for a lifetime.
■Nagahibachi
Photo by makibaru
Makibaru loves to remake old tools that are on the verge of being discarded. I made a one-of-a-kind table by covering a half-broken brazier with a top plate stenciled with the Ortega pattern. Furthermore, in order to match the height with the chair, it is completed by placing it on a stand with casters. It's great to be able to enjoy a drink at such a hearth table.
Spindles/Tetsubin
Spindles are popular as old tools that can be casually displayed on a display or on a pot stand. We will introduce examples of spools that change their appearance with a little remake, nostalgic hand-cranked spools, and examples of iron kettles that you often see at secondhand stores.
■Spindle
Photo by orange-toast
Orange-toast found an old spool at an antique shop. I wrapped yarn around this spool to create a colorful vase. It is said that the sense of the season was produced by wrapping the yarn. A warm and cute arrangement will be helpful. I heard that they are planning to switch to hemp thread in the summer, so I am looking forward to arranging them according to the season.
■ Spinning machine
Photo by pontaseisakusyo
pontaseisakusyo used a nostalgic hand-cranked spinning machine. The tasteful texture is enough to be an interior item as it is. It seems that it was in a neglected state, but with a little work, it was reborn as a bookshelf. The nostalgic atmosphere is irresistible.
■Tetsubin
Photographed by michi-san
Tetsubin is often seen in antique shops. It has a heavy atmosphere and is often used for interior decoration. Michi uses an iron kettle as a pot for succulent plants. It seems that the store staff asked michi what she wanted to use it for and made a hole in the bottom on the spot to remake it. It is a combination of plants and old tools that I want to refer to.
Other Remakes of Secondhand Items
If new value is added by remaking secondhand items that have lost their use or are broken, they become more attractive and attached to them. The special feeling of being the only one in the world is also an important added value. Finally, we will introduce various remakes of antiques.
■Plates
Photographed by kyota-san
kyota-san introduced us to remake old tools that are convenient for outdoor activities. I made a mosquito repellent incense holder by attaching parts to a used plate. The handsome appearance also seems to be familiar with the interior. An original mosquito repellent that makes use of old plates is a nice idea. It's nice to be able to challenge easily. I want to try it right away.
■Pencil Stand
Photographed by 31
31 remade the Showa era pencil holder. It is painted in a solid color to match the natural interior of the house, and is used to display foreign books. Just by painting the color, it becomes glossy and vivid, and it seems that it has breathed back. The feeling of wanting to cherish 31's things is transmitted.
■Fly Book
Photo by kazura-san
A fly book is a tool for temporarily storing food while protecting it from insects. Mr. kazura remade the fly book, which had been stripped of the wire netting and had only a lattice, pasted Japanese paper on it and turned it into a storage for sweets. It seems that the Japanese paper used was made by themselves. The retro storage room full of ideas has a warm appearance and makes you feel kind.
Introduced old tools that have been remade to add new value. All of the ideas were great, while still retaining the good old feel of the house, but also fitting in with today's lifestyles. Please use it as a reference.
Written by: puppy511 List of popular keywords about Laurier Press
5 must-see Laurier press articles ♡ New articles